Kalki.IO Edge Gateway Software Support AWS Greengrass
Kalkitech October 7, 2021
Kalkitech, a leading OT real-time and operation data acquisition provider for the global energy industry, integrates Kalki.io Edge utility protocol gateway with AWS (Amazon Web services) IoT Greengrass. This immediately makes available over 40+ protocols in Kalki.IO Edge Utility protocol gateway onto the AWS IoT Ecosystem, with easy integration to all AWS Services available in Greengrass. The protocol support includes DNP3, IEC60870-5-104, IEC 101, IEC 103, IEC 61850, OPC UA, Modbus, IEEE 2030.5, SunSpec Modbus, Standard Modbus, DLMS COSEM, and more; this solution enables Utilities, System Integrators, and OEM's to easily integrate their real-time devices like RTU's, Protection Relays, Auto-Reclosers, Transformer Monitoring Units, Data Concentrators, Meters, Fault Passage Indicators, Pad Mount Substations, Fault Recorders and numerous other sensors to the AWS IoT ecosystem.
The Kalki.io Edge with Greengrass support, enables local processing, messaging, data management, ML interface, and other pre-built components in AWS IoT Greengrass to accelerate application development at the edge of AWS cloud. AWS Greengrass core interacts with the cloud and works locally, even with intermittent connectivity. Customers can now integrate utility OT devices with AWS IoT Core, AWS Device Management, AWS Sage Maker, AWS Kinesis, AWS IoT Site wise, AWS S3 storage among many integration options available using pre-built components without writing a code. This enables Utilities, OEM's and System Integrators to easily deploy an Edge Gateway in their hardware of choice or pre-certified hardened hardware from the Intel Partner EcoSystem or from AWS and obtain real-time data into their Edge & Cloud Applications.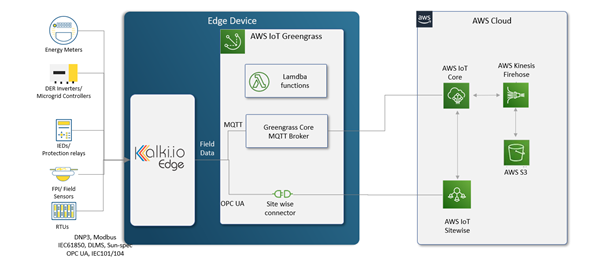 What is Kalki.io Edge?
Kalki.io Edge software simplifies and accelerates the aggregation of data and integrates with OT network for monitor, and control applications at the Edge regardless of the communication adaptors/drivers supported by field devices. Equipment & devices deployed in the utility OT network support a wide variety of standards-based and proprietary communication protocols, which increases complexity and integration time for system integrators and end-users to integrate their applications and solutions. Kalki.io Edge deployed on an Edge hardware has a built-in multi-protocol engine that can collect telemetry, automation, and IoT data and securely deliver it to an external application/ framework/ platform. Kalki.io Edge is an infrastructure, device, and protocol agnostic software to connect and communicate with virtually any device, application, and system seamlessly.
Know More on Kalki.io Edge
Kalki.io Edge and AWS Greengrass integrated solution unfasten the opportunities to build ground-up OT and IT Applications like cloud SCADA, asset analytics, cloud-native DERM's, ADMS and provide for a more seamless OT /IT Integration that was ever possible. Our customers can unlock their data to advance the utility operations and accelerate the digital transformation journey using the integrated solution.
---
---
E4S Alliance Expands Grid Digitalization Ecosystem
November 23, 2022
24th Nov 2022: Today, ABB, E-REDES, Kalkitech and VMware are joining the Edge for Smart Secondary Substations (E4S) Alliance, created to develop a standard, flexible, manageable and interoperable platform for…
Know More