Utility Telemetry Front End on AWS using Kalki.io Data Hub
Kalkitech May 17, 2022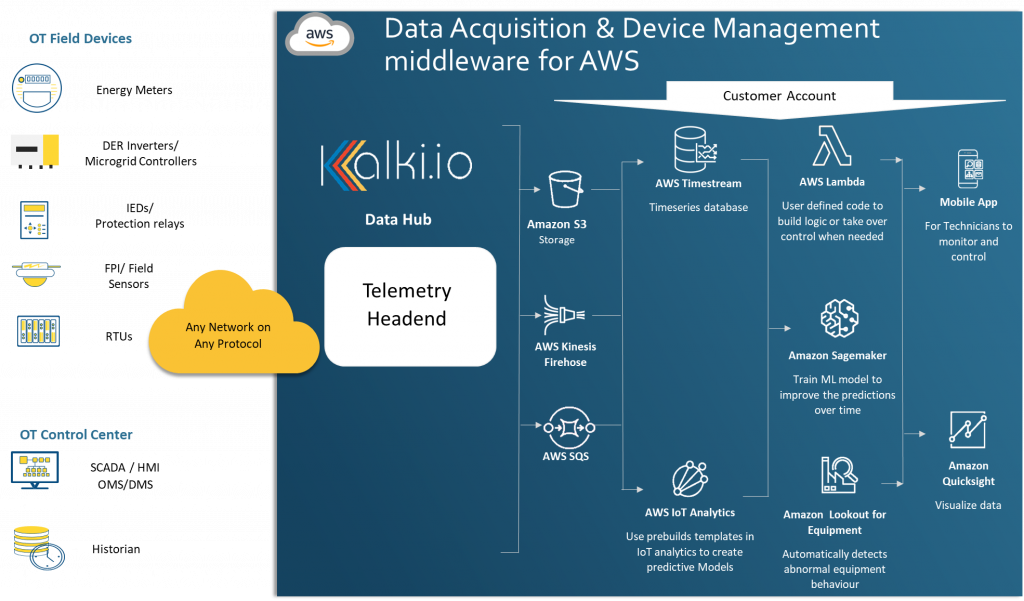 Kalkitech, a leading digital transformation solution provider for global energy & Utility industry, announces the availability of Utility Telemetry Front end on Amazon Web Services (AWS). Utility System Integrators and implementation agencies can use the data hub service to directly establish secure and resilient connectivity of the OT system with AWS.
Kalki.io Data Hub is a data acquisition middleware as a Service for Telemetry, IoT, and Metering applications for Utilities, Industries, and infrastructure to enhance business intelligence, improve operational efficiency, and provide systemwide visibility. By aggregating data from field devices & assets regardless of communication protocol or vendor, Data Hub creates a single canonical secure data source accessible by third-party applications for performing robust applications on AWS. Kalki.io supports many legacies and standards-based industry/utility protocols as well as new IoT protocols for field data acquisition and control.
Data Hub OT Connectors include:
DNP3.0
Modbus
DLMS
IEC 61850
IEC 60870-5-101/104 (IEC101/IEC104)
SNMP
IEEE 2030.5 Client & Aggregator
IEEE 2030.5 Server
MQTT
OPC UA
SunSpec
ICCP
C37.118
Explore Kalki.io Data Hub
These OT connectors allow utilities to connect different OT devices like IEDs, RTUs, Auto Reclosers, Capacitor Bank Controllers, smart meters, revenue meters, Fault Passage Indicators (FPI), Temperature Sensors, Overhead Line Sensors, Smart Inverters, Battery Energy Storage Systems (BESS), etc. Data can be also collected from existing OT systems like SCADA, ADMS, Historians, etc. The data collected from the OT system can be exchanged with any of the AWS's services of the integration choice e.g.: AWS Kinesis Data firehose, AWS S3, AWS SQS, and. Kalkitech also provides solutions to integrate device data with AWS IoT Site Wise, AWS IoT Core, and AWS IoT Central.
Data Hub supports bi-direction data flow and sends raw and processed data back from AWS applications to utility on-premises SCADA / EMS/ Historian systems or directly to devices over telemetry protocols over a secure network.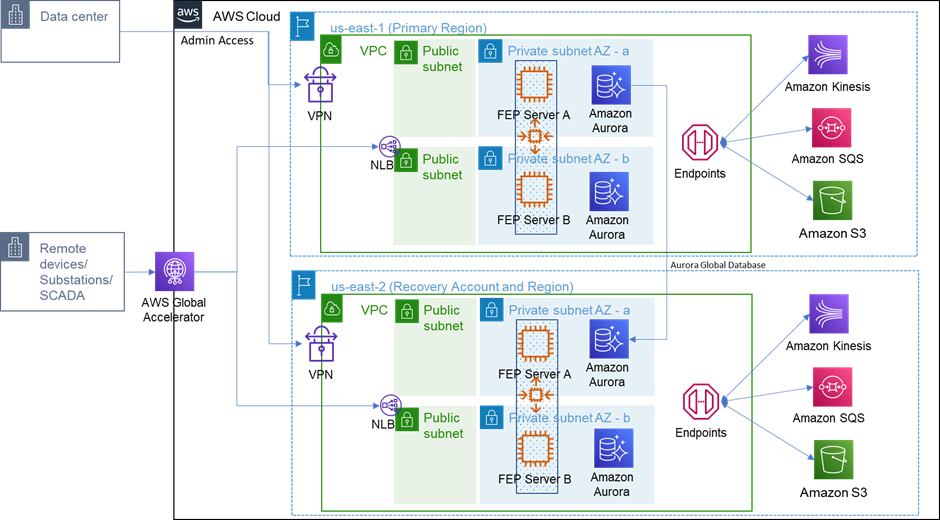 The solution can be deployed in multiple geographic regions for resiliency and high availability. It does not require any user intervention to switch between the regions if one of the regions goes down. Multi-layer security using Site to Site VPN and TLS 1.3 proxy between utility OT system and cloud ensures a higher level of security for data and configuration. Kalki.io datahub enables a highly resilient front-end architecture for monitoring, analysis, and control of utility operation systems from the AWS cloud in order to manage the challenges posed by security risks like ransomware attacks on the on-premises operational systems.
---
E4S Alliance Expands Grid Digitalization Ecosystem
November 23, 2022
24th Nov 2022: Today, ABB, E-REDES, Kalkitech and VMware are joining the Edge for Smart Secondary Substations (E4S) Alliance, created to develop a standard, flexible, manageable and interoperable platform for…
Know More