---
Benefits
OEMs (Equipment Manufactures)
Improve equipment/device reliability by pro-active monitoring & management
Optimize your support and maintenance cost using remote access and management
Enhance your equipment life cycle by minimize equipment damage and reduce replacement cost
Edge ODMs
Faster go to market
Proven adaptors lesser issues after deployment
Robust roadmap for keeping protocol UpToDate
Level 2 and 3 support,
White labeling option
System Integrators
Reduce your integration cost with plug and communicate with any device using field-proven protocol adaptors
Seamless sharing of data with multiple systems/ IoT platforms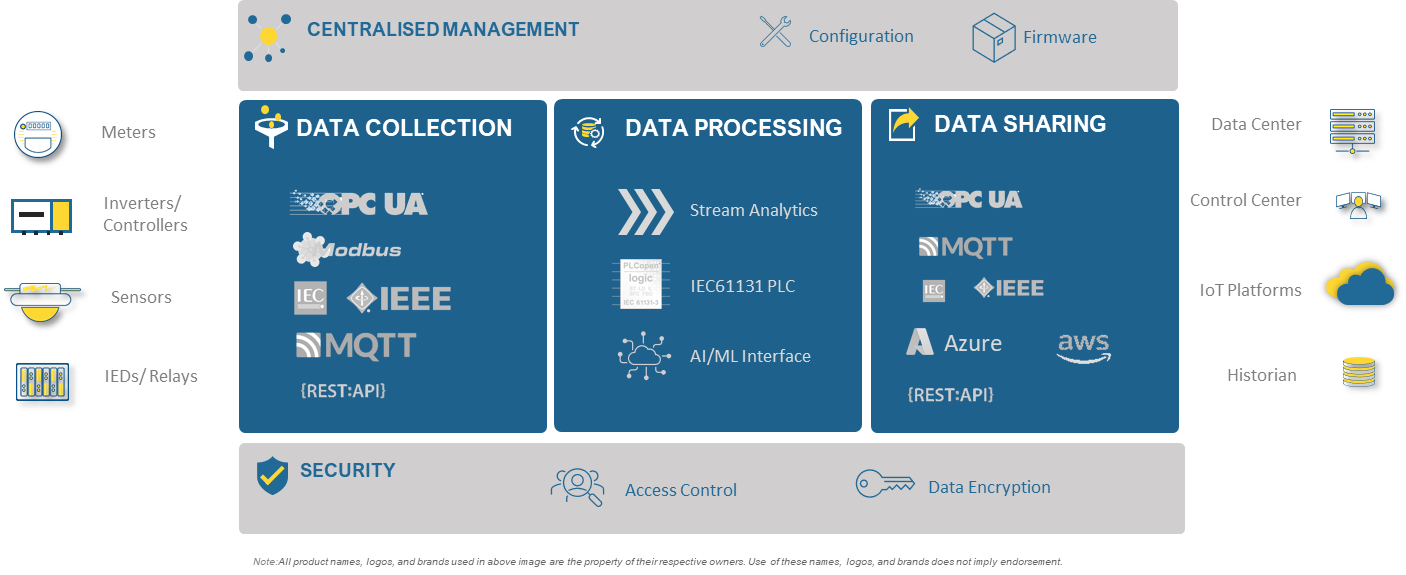 ---
Features
Data Collection
Real-Time And Historic Data Acquisition
Proven Interoperability With Sensors, Controllers, Measurement Devices And Protection Relays
Cloud Integration
Centralized cloud integration using Kalki.io data hub with device management and Identity Access Management (IAM)
Amazon AWS, Azure, IBM, Google Cloud
Industrial IoT Platforms over standard interfaces MQTT, OPC UA, LWM2M, AMQP
Data Processing & Storage
Real Time Streaming And Data Processing
Store Data Periodically Or An Event Basis
Database Management Options
Device Management & Security
TLS 1.3 Based Communication Security
Secure Role-Based Access Control Using X.509 PKI
Remote Configuration And Settings
DS0140045_Kalki.io_Edge Software Brochure
686 KB
Kalki.io Edge software is a multi-protocol gateway solution that enables utilities, residential, industrial, commercial and system integrators and Original Equipment Manufacturers (OEM) to engineer solutions based on cloud and IIoT technologies and thereby improve efficiency, a better life for assets, and reduce the operational and maintenance cost.
Kalki.io Edge an embedded software ideal for edge gateway vendors or system integrators simplifies and accelerates the acquisition, aggregation, and analysis of data from vendors' field devices such as controllers, sensors, meters, PLCs, machines, protection relays, and other similar devices along with real-time protocol conversion and historical data exchange with external systems securely. The major highlight of Kalki.io Edge is that this Edge software gateway enables data acquisition and analysis in ways that facilitate quick decision making, and ultimately increase the efficiency of the field assets.
Why Kalki Edge Gateway?
Kalki.io Edge software gateway together with the kalki.io Identity Management System (IAM) system provides full-scale role-based access control in order to empower secure access of data. The field devices use a wide range of standards-based and proprietary communication protocols that extend the time and complexity for product vendors to develop technology to convert data. Kalki.io Edge is distributed as a standard installation package deployable on Intel x86 platforms with a standard Linux operating system. Kalki.io Edge software gateway, which is deployable on edge devices, sensors, embedded computers, on-premise servers as well as various low footprint routers in the field has a built-in multi-protocol engine that collects telemetry data from field devices and securely delivers it to external applications/frameworks. With robust and highly scalable architecture, Kalki.io Edge is intended for even low memory and compute footprint, and supports a huge number of industrial, commercial, and utility automation protocols. Irrespective of the device, protocol, or vendor type, Kalki.io Edge software gateway software facilitates edge devices to virtually connect and communicate with any device or system seamlessly.
Key Advantages of Kalki.io Edge
Kalki.io Edge gateway software is equally beneficial for equipment or device manufacturers, system integrators, and asset owners. The advanced Edge gateway software of Kalki is designed to provide seamless communication between power meters, protective relays, and input/output devices. The pro-active maintenance capability of Kalki.io Edge improves the reliability of the equipment, and optimize the support of equipment manufacturers as well as maintenance cost with secure remote access and device management. It also enhances the equipment to leverage IoT opportunities through its highly scalable architecture. Besides enabling seamless sharing of data with IoT platforms/multiple systems, Kalki.io Edge gateway impeccably supports system integrators reducing the integration cost with proper communication between the devices using field-proven protocol converters/adaptors. Kalki.io Edge is highly beneficial for asset owners through centralized monitoring and controlling their remote devices or assets safely to ensure high ROI. In addition to the minimal equipment damage and low replacement cost it provides, Kalki.io Edge IIoT gateway reduces the overall expense of ownership for monitoring and maintenance of their assets.
Kalki.io Edge Packages 
Kalki.io Edge software gateway is available in four packages depending upon the application areas where it is used.
DER Gateway identified as Kalki.io Edge 100 is a pre-packed license designed for distributed energy resources that can be used for solar PV plants, wind farms, EV charging systems, electrical distribution automation.
Utility Gateway identified as Kalki.io Edge 110 are pre-packed licenses used for substation automation, network monitoring, fossil plant monitoring, hydro plant monitoring, grid metering or for generation monitoring.
Industry 4.0 Gateway identified as Kalki.io Edge 120 are pre-packaged licenses used for manufacturing, transport, process automation, building automation, and mining applications.
Protocol Gateway pack identified as Kalki.io Edge 130 can be used with a selected set of protocols licenses for generic asset monitoring, remote device management, smart grid, and smart cities.
Protocol Support 
IEC61850, IEEE2030.5, DNP3, IEC60870, IEC104, IEC101, Modbus, OCPP, DLMS, DLMS-COSEM, Ethernet IP, BacNet, Sunspec
Cloud connectivity – MQTT, OPC UA, Azure, AWS
Read More
Make An Enquiry
Get in touch with us to Know More.
Contact Us