---
SYNC2000
SYNC 2000 substation gateway is a secure option typically for gateway applications and sub-transmission and medium voltage substation automation.
---
Overview
secure substation gateway solution comprises a protocol gateway that supports more than 40 industry standards, proprietary communication protocols, and a multi-faceted security sentry that combines role-based access control, a firewall, security log, and encrypted communications. It ensures maximum flexibility and can be mounted on a DIN, wall, or rack.
The SYNC2000 family of products are field-proven and support a wide range of communication protocols including IEC 61850 ed 2.0/1.0, IEC 60870-5-101/103/104, DLMS/COSEM, Modbus, as well as legacy and proprietary protocols such as SPA, SEL, Courier and many more.
The product complies with security features according to NERC CIP v5/IEEE 1686. Security capabilities include X.509 PKI certificate support; integrated firewall; TLS/IEC 62351-3 communication; role-based access control (RBAC) using Online Certificate Status Protocol (OCSP) or Attribute Certificate based on IEC 62351-8 standard, security log recording access, events and alarms, and encrypted communications. The product is designed to enable secure boot (TPM) support.
With 4 serial and 2 copper Gigabit Ethernet ports in a ruggedized enclosure the SYNC 2000 is designed for IEC 61850-3 compliance including strict EMI/EMC and surge requirements on all ports and the power supply. It has the flexibility to be mounted on a DIN rail, on a wall or in a rack.
The SYNC2000 is ideal for installing in sub-transmission and distribution substations as a secure data concentrator/gateway for connecting various legacy and new generation downstream devices to a centralized control center.
---
Key Features
License option to enable standard protocols DNP3.0, IEC 60870-5 101/103/104, DLMS- COSEM, Modbus, IEC 61850 ed2.0, and previous editions.
Supports proprietary protocols such as SPA, Courier, SEL, and many more which are commonly used in utility legacy devices
Many-to-many protocol conversions with multi-master connection support
Device software and hardware status, restart notification, and many more diagnostic points
Remote management and monitoring using Kalki.io
SNMP agent/manager support to enable network asset monitoring
Transparent tunneling for remote management of end devices
Multiple options to synchronize the time of the gateway and downstream devices (NTP/SNTP/IEC 60870-5/DNP3 etc.)
Integrated Web HMI
NERC CIPv5 support*
IEEE1686 compliant*
Secure device access (Linux users)
Physical port control
Firewall protection
Data encryption
Password protection
Software license protection
Digital right management
Integrated with kalki.io identity and access management
Role based access control using Attribute certificate based on IEC 62351- 8/OCSP
Allows only signed firmware bundles from trusted sources
Encrypted tunnel for configuration access and web-monitoring
IEC 62351-3 transport layer security for TCP based utility protocol
IEC 62351-5/Secure authentication for DNP3.0
SSL based VPN with AES, DES or 3DES encryption over WAN/LAN
All logs in Syslog format
Configurable alarms and events for security-related incidents
Integrated trusted platform module*
*Contact us for details
4 serial ports and 2 Gigabit Ethernet ports
Wide range of AC and DC power supply
Internal and external pluggable cellular modem
---
Architecture Diagram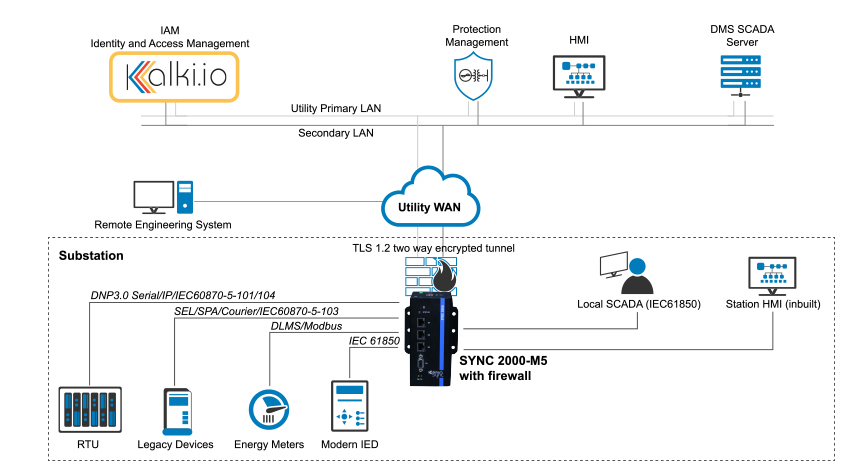 Make An Enquiry
Get in touch with us to Know More.
Contact Us